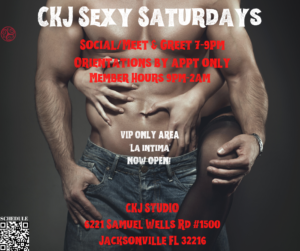 Saturdays are THEME NIGHTS
Our busiest night, full of fun, dress up Theme Night in the Social Lounge and a lot of activity throughout the Club. Plan ahead if bringing friends in for their Orientation at 7. 8 or 9pm.
Theme DRESS-UP NIGHTS are optional for dress.  Kink, Fetish, Sexy and "Optional" Clothing is always acceptable after 9pm. ALWAYS remember to dress street legal to and from our door!
SHOP with our A-List Vendors- A variety of local and visiting vendors every Saturday.
SOCIAL AREA 7pm-2am
A Variety of Social Activities, Meet and Greet, Music, Dance, Games and the Newbie Orientation appointments touring through, it's generally a very active evening!  
Relax and meet new like-minded people! Party, Dance and Sing! Decorated for Theme Nights!
Smoking/Vaping Patio for your convenience
LOUNGES: 7pm-2am
Swingers, and BDSM Lifestyles blend in our unique environment! Meet and Greet in one of our Lounges. The BELLY BUTTON LOUNGE, or the CARDINALE LOUNGE. Drinks allowed in these areas.
Relaxing and Social, Music, Movies and Mingling
THEME ROOMS Open 9pm-2am
Be sure to check out the JUNGLE ROOM, The BLUE ROOM, The Medical, Massage and Wax Room, with the relaxing and sexy "Belly Button Lounge" in the middle of it all.
The NEW Kinbaku Cardinale Dojo and Dojo Dungeon.
La INTIMA VIP – Open 9pm-2am
VIP THEME ROOMS, The Moroccan Make-Out Room, The Roman O Room, and the RED ROOM are great for a little more privacy! Theme Decorated and Comfortable for groups.
50 Shades Dungeon
All rooms surround the 50 Shades Dungeon which is fully equipped for your experience. Special Secret Spaces with additional hard points for Bondage, Rope, Cage Play. The Glory Hole is back!
Our Newest additional space, The New Rope Dojo and Dojo Dungeon for more play space. Rope and Shibari Classes are held here as well as the Motorbunny Rodeo, Massage Tables and relaxing seating.
So many choices, So much to experience!
Welcome Alternate Lifestyles, Kinksters, BDSM, Swingers, Cosplay, Naturist, Nudist, Dominant, submissive, polyamorous, single, couples, LGBTQ, and straight Lifestyle interests are represented here. With Fun and Social events, education and Theme Party Events, Open three nights a week, our Members know and appreciate our approach to a drama free co-operative, and welcoming environment where making friends and making history is our goal!  Our Vibe and Variety are exceptional.
*Always check SCHEDULE OF EVENTS at www.ClubKinkJax.com/schedule/  for up-to-date information
*Professionally female owned and managed A Lifestyle Arts Studio and Membership Social Club.
*Appreciating and Welcoming ALL LIFESYLES under one roof! 
* This is THE PLACE for you to be YOU!
We are here every Wild Wednesday, Fun Friday and Theme Night Saturday!
ALL ORIENTATIONS and MEMBERS EVENT TICKETS:
https://www.eventbrite.com/o/jacksonville-Lifestyles-7998866848
Not a Member?  No Problem!
READ ALL pages from the MENU on www.clubkinkjax.com   
FOLLOW INFO on  www.clubkinkjax.com/orientation/
SHEDULE and ATTEND ORIENTATION appointment:  www.eventbrite.com/o/ckj-studio-7998866848
NO WALK-INS ALLOWED.  This is a Private Social Club.
ARRIVE ON-TIME for your appointment   No Refunds. 
       *Scroll and choose the correct ticket for ORIENTATION by date/time
        *Click TICKETS. Fill out and submit.  No Refunds. Choose your ticket correctly.
        *BRING YOUR RECEIPT confirmation EMAIL on your phone and your Valid ID. (Over 21)
ORIENTATION TICKET INCLUDES VETTING, R.S.O.Check TOUR AND ORIENTATION. You may opt to join and stay the evening as a Member after your Orientation, or you may opt to return another time. Orientation is a one-time requirement for Membership, subject to review/refresh for inactive members returning.
      *SMOKING/VAPING ONLY at the OUTDOOR Patio area.
      *BRING YOUR OWN TOWEL (required)             
      *LOCKERS – BRING YOUR OWN LOCK